Vapor Recovery and Fugitive Emission Systems
GENERON® has developed a full line of Vapor Recovery solutions which allows the end user to turn their BTU rich waste products into a viable revenue stream while maintaining compliance with strict environmental regulations.
GENERON's years of project management and engineering services experience, combined with our years of development and research allows us to treat a wider range of chemicals and offer an option for recovery other than combustion for tank and truck loading facilities.
GENERON®, along with our wholly-owned ACFM group, has significant experience in hydrocarbon recovery systems. More than 100 large units have been installed in petrochemical applications to recover butane, pentane, hexane and other hydrocarbons. Hundreds of units have been installed for gasoline vapor recovery at retail gasoline stations, and as a vapor recovery system for truck loading stations.
The VRU is designed specifically to offer a more feasible way to treat vapors that are not compatible with a carbon-based system. The membrane's separation efficiency is custom designed for each application.
Vapor Recovery Compressors (VRU)
5-100 horsepower
10-10,000 MCFD
Electric or Engine Drive
Natural Gas Liquid Recovery (NGLs)
Separation Products
Power Generation Equipment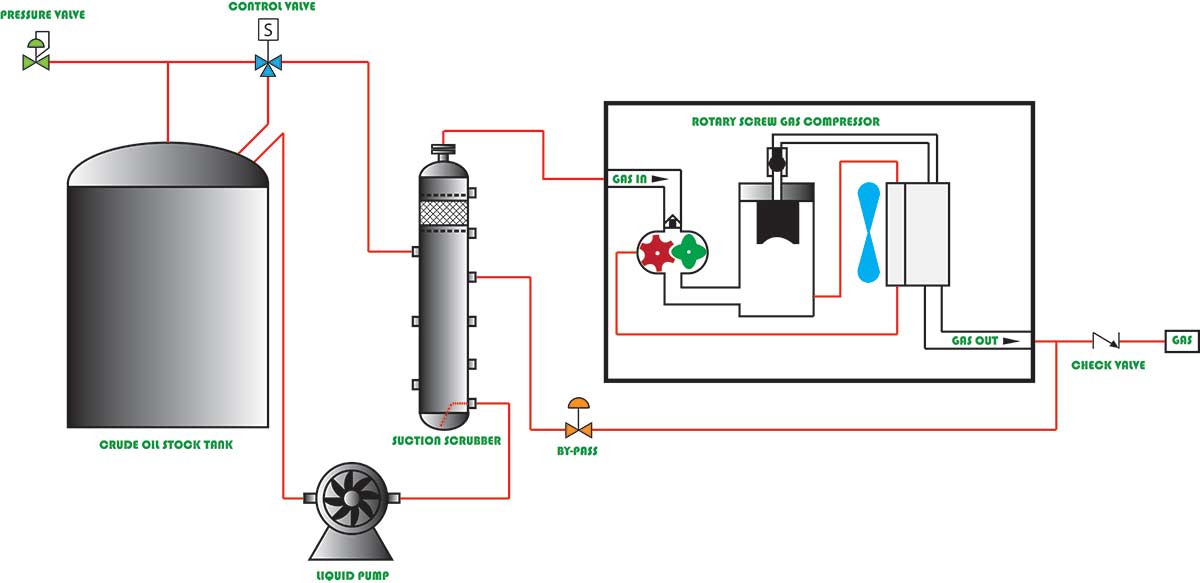 FEATURING
A better alternative for plants that handle petro-chemicals & chemicals.
Compatible with a wider range of hydrocarbons & various crudes.
Compact design; a smaller footprint compared to the equal sized carbon system.
Steady state process for constant flow design applications.
Fewer moving parts & control requirements compared to other technologies.
Inlet compressor eliminates process pressure drop issues; inherently safe design.
APPLICATIONS
Truck loading
Marine loading
Rail loading
Tank breathing applications
Petrochemical
STANDARD FEATURES
All PLC shutdowns are tabularized and stored
Electrical equipment built to local or EU standards
Controls and drives
Variable speed drive absorbent return pump
Max Inlet Pressure – psi: 50, bar: 3.45
Max Discharge Pressure – psi: 210, bar: 14.5
Model
Power
Drive
 Type
Flow Rate                               (at 105 PSIG/3.5BARG )
Dimension
Weight
Length
Width
Height
hp
kw
scfm
nm3/hr
inch
mm
inch
mm
inch
mm
lbs
kg
GVRC-E05
5
3.7
ELECTRIC
BELT
21
36
86
2184
86.5
2197
80
2032
1275
580
GVRC-E10
10
7.5
ELECTRIC
BELT
38
65
86
2184
86.5
2197
80
2032
1400
636
GVRC-E15
15
11
ELECTRIC
BELT
55
94
86
2184
86.5
2197
80
2032
1560
709
GVRC-E15D
15
11
ELECTRIC
DIRECT
55
94
86
2184
86.5
2197
80
2032
1560
709
GVRC-E20D
20
15
ELECTRIC
DIRECT
71
120
86
2184
86.5
2197
80
2032
1720
782
GVRC-E25D
25
19
ELECTRIC
DIRECT
95
161
86
2184
86.5
2197
80
2032
1800
818
GVRC-E30D
30
22
ELECTRIC
DIRECT
118
200
86
2184
86.5
2197
80
2032
1960
891
GVRC-E40D
40
30
ELECTRIC
DIRECT
152
258
98
2489
86.5
2197
80
2032
2200
1000
GVRC-E50D
50
37
ELECTRIC
DIRECT
198
337
98
2489
86.5
2197
80
2032
2400
1091
GVRC-E60D
60
45
ELECTRIC
DIRECT
236
401
108
2743
86.5
2197
96
2438
2700
1227
GVRC-E75D
75
56
ELECTRIC
DIRECT
285
484
108
2743
86.5
2197
96
2438
3100
1409
GVRC-E100D
100
75
ELECTRIC
DIRECT
358
608
108
2743
86.5
2197
96
2438
3300
1500