Nitrogen Generator 6800
CP Series Cabinet
This system features our patent-pending GENERON® 6800-CP Membrane Modules. These are specially designed for industrial applications to reach higher efficiency at a lower cost by removing the outer shell that our 6800 Modules typically use. This results in a lighter overall design, and simpler integration with our Kwik Connect Manifold system. Maintenance is as easy as removing the side panel and changing out any element.
Reliable nitrogen membranes are the heart of a nitrogen generation system. GENERON® Membrane Modules have been at the forefront of the industry for over 50 years. Our research and development team in California works to continuously improve the performance and durability of our membranes.
After the installation of your new product, we offer you our best customer service team. The GENERON® Parts and Service department provides maintenance and technical support worldwide, and can be reached online or through your GENERON® sales representative.
Benefits:
Ultra compact design, smallest footprint available in market
Lowest energy consumption of available commercial membrane systems
Designed for ease of installation and maintenance
Meets NEC standards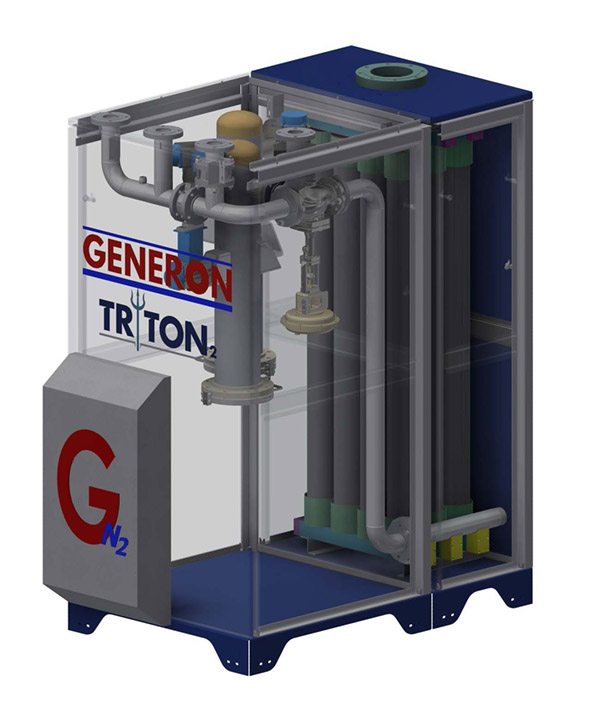 Features:
Space Saving Light Weight Footprint
Hinged Easy Access Front Panel
Automatic Purity Control Valve Available
GENERON SureLink PLC System Available
N2 Discharge Port: 2" – 3" (DN 50-75)
Off-Spec Air Vent:

 2" – 3" (DN 50-75)

 Available
Compressed Air Supply: 2" – 3" (DN 50-75)
Permeate Port Available
Integrated Sensors Available
Removable Side Panel for Maintenance
UL® Certified electrical Panel Available
Kwik Connect Manifold
Air Distribution Header
GENERON Patent Pending 6800-CP Modules
Air Sure Multi-Stage Compressed Air Pretreatment System Available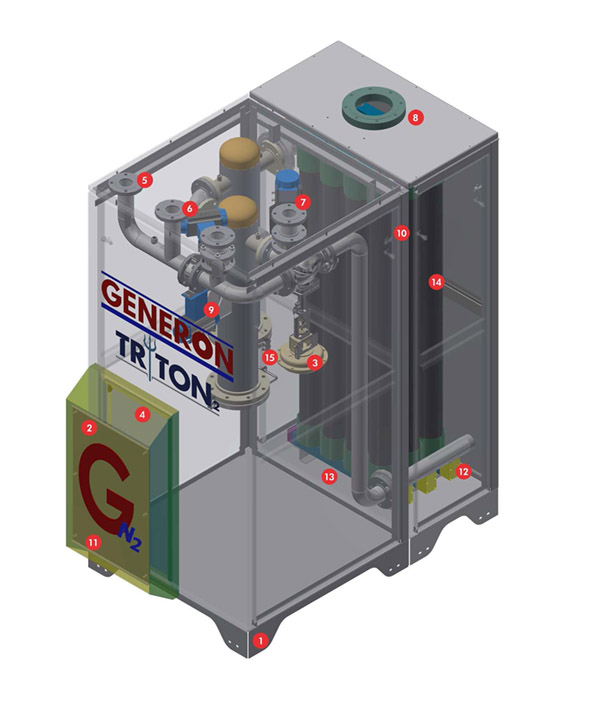 Parameters
Dimensions:
7′-0″ L x 4′-0″ W x 8′-5″ H
Weight
4,000 lbs
Power Requirement:
400-800 WATT @120 VAC Supply
Inlet Air Connection:
2″ – 3″ 150# RF
N2 Outlet Connection:
2″ – 3″ 150# RF
Model
Pressure
Nitrogen Flow Rate / Purity
95%
99.5%
PSIG
BARG
SCFH
Nm3/h
SCFH
Nm3/h
6800CP-H
100
6.9
2439-29268
63-756
809-9704
21-252
175
12
5147-61764
134-1602
1663-19952
43-517
*Flow and pressure values are averages with tolerances of ±4%. Performance data based on 80°F (27°C) Inlet at Membrane. Standard Conditions: 68°F (20°C) and 14.696 psi (1 atm).
Custom sizes are available upon request.