Nitrogen Generator 6150
Membrane Cabinet
The TRITON2 product features our patent pending GENERON® 6150-CP Membrane Modules. These are specially designed for marine and industrial applications to reach higher efficiency at a lower cost by removing the outer shell that our 6150 Modules typically use. This results in a lighter overall design, and simpler integration with our Kwik Connect Manifold system. Maintenance is as easy as removing the side panel and changing out any element.
Reliable nitrogen membranes are the heart of a nitrogen generation system. GENERON® Membrane Modules have been at the forefront of the industry for over 50 years. Our research and development team in California works to continuously improve the performance and durability of our membranes.
After the installation of your new product, we offer you our best customer service team. The GENERON Parts and Service department provides maintenance and technical support worldwide, and can be reached online or through your GENERON sales representative.
Benefits:
Ultra compact design, smallest footprint available in market
Lowest energy consumption of available commercial membrane systems
Designed for ease of installation and maintenance
Meets NEC standards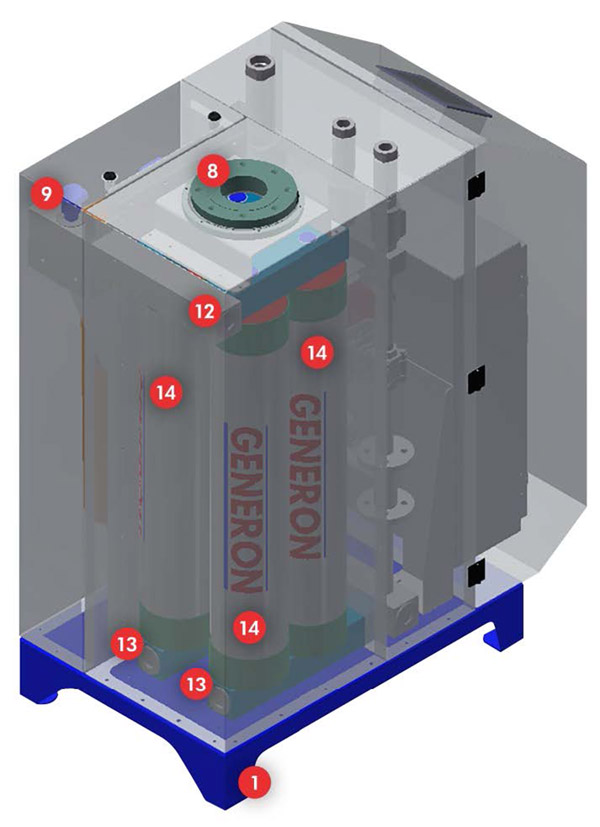 Features:
Space Saving Light Weight Footprint
Hinged Easy Access Front Panel
Automatic Purity Control Valve Available
GENERON SureLink PLC System Available
N2 Discharge Port: 1" – 1-1/2" (DN 25-40)
Off-Spec Air Vent:

 

1" – 1-1/2" (DN 25-40) Available
Compressed Air Supply: 1" – 1-1/2" (DN 25-40)
Permeate Port Available
Integrated Sensors Available
Removable Side Panel for Maintenance
UL(r) Certified electrical Panel Available
Kwik Connect Manifold
Air Distribution Header
GENERON Patent Pending 6150-CP Modules
Air Sure Multi-Stage Compressed Air Pretreatment System Available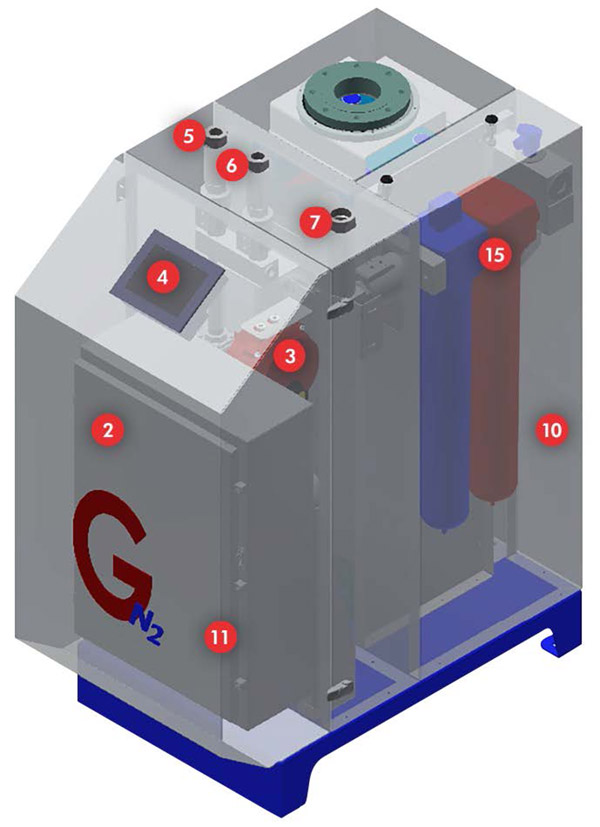 Model
Model Size
Inlet Pressures
Nitrogen Purity / Flow Rate
PSIG
BARG
95%
96%
97%
99.5%
SCFH
NM3/H
SCFH
NM3/H
SCFH
NM3/H
SCFH
NM3/H
6150 MEMBRANE CABINET
6151
100 to 175
6.9 to 12
1342-2720
35-70
1129-2285
29-59
930-1879
24-49
427-854
11-22
6152
100 to 175
6.9 to 12
2684-5440
70-140
2258-4570
58-118
1860-3758
48-98
854-1708
22-44
6153
100 to 175
6.9 to 12
4026-8160
105-210
3387-6855
87-177
2629-5637
72-147
1281-2562
33-66
6154
100 to 175
6.9 to 12
5368-10880
140-280
4516-9140
116-236
3720-7516
96-196
1708-3416
44-88
6155
100 to 175
6.9 to 12
6710-13600
175-350
5645-11425
137-295
4650-9395
120-245
2135-4270
55-110
6156
100 to 175
6.9 to 12
8052-16320
210-420
6374-13710
174-354
5258-10625
145-294
2562-5124
66-132
6157
100 to 175
6.9 to 12
9394-19040
229-490
7903-15995
192-413
6510-13153
159-343
2989-5978
77-154
6158
100 to 175
6.9 to 12
10736-21760
280-560
9032-18280
232-472
7440-15032
193-392
3416-6832
88-176
*Flow and pressure values are averages with tolerances of ±4%. Performance data based on 40°F (4.4°C)
pressure dew point and 80°F (27°C) inlet at membrane. Standard conditions: 68°F(20°C) and 14.696 PSI (1 atm).
FOOT PRINT: 39″-54″ L x 25″ W x 56″ H, WEIGHT: 815 – 1365 lbs