Nitrogen On Wall (NOW)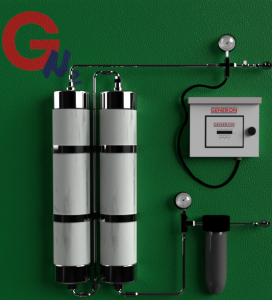 GENERON's new NOW panel system is a high quality low cost nitrogen generator. The NOW panel is a simplified and compact design made to be wall mounted in your equipment room, or install at the point of use in the production area.

Generon's advanced membrane design allows for silent operation with a constant flow of high quality nitrogen with less compressed air consumption, (low operating cost). The NOW panel uses your treated compressed air system and produces nitrogen from 95% to 99.5% (high purities can also be obtained consult factory).
Generon's consistent use of high quality components allows for a longer lasting generator with minimal service intervals. Our long life Combined Polymer (CP) ultrahigh performing nitrogen membrane modules delivers 2X more nitrogen flow for same compressed air of our competitors, our standard long service life activated carbon filter removes hydrocarbons from the compressed air stream for extend operating life, a full time (120 volt) oxygen analyzer with digital purity display, relay outputs for power failure, both high and low purity alarms (programmable set points), with a long life Zirconium Oxide sensor (average 5 years). All mounted on a steel powder coat painted back panel. The NOW system can be easily upgraded in the field from a single module to a dual module system.
System Benefits
Safety: Low operating pressures, No hazardous storage
Economy: Low installation costs, Low operating and maintenance cost
Convenience: Small foot print, point of use capable, can be fully automated for unattended operation
Reliability: High quality gas industry components, long service life, minimal service periods
System features
Flows from 15.1 scfh (.04 NM³H) to 5,120 scfh (135.09 NM³H)
Input pressures up to 175 psig (12.06 barg)
Output pressures up to 172 psig (11.9 barg)
Purities from 95% to 99.5% (higher purities upon request)