Membrane Dryers
GENERON provides a full range of Instrument Air Packages. These packages can be unitized with Primary Air Compression to reduce the overall package size and installation cost and time. GENERON® Membrane systems are compact and virtually maintenance free.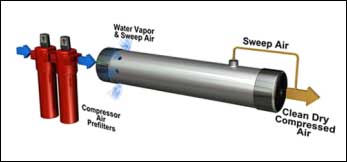 The compressed air, saturated with water vapor, flows through a bundle of GENERON® hollow-fiber membranes.  The GENERON® Membranes  allow water vapor to pass while the air remains and discharged as a dry product.  A fraction of the dry air is redirected internally to sweep the permeated water vapor out of the module.
GENERON® Membrane Dryers perform with the lowest purge air loss for the highest possible efficiency—saving you time and money in the production process.
Over 50 years of Manufacturing and Engineering

GENERON® Membranes have been the benchmark of the industry and proud to have shipped over 100,000 membranes around the world.

Save Energy
GENERON® Membrane modules offer the highest efficiency in the market, reducing your compression cost.

Reduced Footprint
GENERON® Membrane modules have the highest productivity in the industry and can have a 30% smaller footprint, allowing for horizontal or vertical installation, and adaptable to any space requirement.

Easy Start-Up
GENERON® Systems are delivered ready to start and deliver dry air.

Suited for Tough Environments
GENERON® Membrane modules are built to withstand even the roughest operating conditions, including the harsh off-shore environment.

Quality is Guaranteed
Every GENERON® Membrane module is rigorously tested to the highest-standards in one of our ISO-9001 certified facilities.
FEATURES:
.01 Micron Coalescing Filter with drain
Activated Carbon Filter
GENERON® Hollow Fiber Membranes
PLC Control System with HMI Feature
NEMA 12 Cabinet Enclosure
Inlet Pressure Gauge
Outlet Pressure Gauge
Pressure Safety Valve
System Lifting lugs
Performance Test and Report
Performance certificate
OPTIONS
Demister / Moister Separator
1 Micron Coalescing Filter
Process Heater
Automatic Purity Control Valve
NEMA 4X Control Cabinet Enclosure (316SS)
Enhanced PLC with Telemetry
Hazardous Area Classification
Auto/Standby Mode
Product Flow Meter
Dew Point Analyzer
Primary Air Compression
Technical Data
MODEL

Application

Membrane Casing

 

MAWP

MAWT


Flow Rate in Saturated Air @ 40F (4.4C) PDP, MAWP, 100°F

View Product PDF

 

 

 

PSIG (barg) 

°F (°C) 

SCFM

NM3/Hr.

 

210 GMD

H2O in all Gases

PVC, Aluminum

203 (14.0)

150 (65)

4.5

7.0

 

330 GMD

H2O in all Gases

Aluminum

203 (14.0)

150 (65)

27.5

42.8

 

4100 GMD

H2O in all Gases

Aluminum, 316SS

203 (14.0)

150 (65)

55.0

85.6

 

6150 GMD

H2O in all Gases

Aluminum, 316SS

203 (14.0)

150 (65)

110.0

171.2

 
Membrane Modules with higher working pressures are available upon request
Available Designs
GENERON Related Products:
Primary Air Compression Packages
Instrument Air Packages
Process Skids-CH4/CO2 Separations
Gas Dehydration Systems
Fuel Conditioning Skids
Nitrogen Generators from 95 to 99.999% Purities.
Gas Booster Compression Packages
High Pressure Bottle Filling Packages