PSA Nitrogen Generator, Compact Series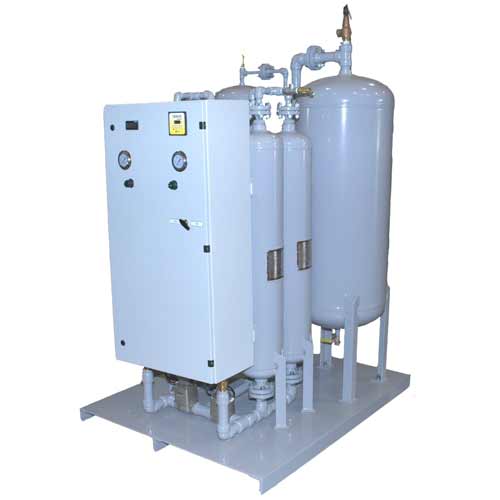 Continuing to be the leader in innovative system designs, GENERON® offers a Compact PSA System. This new design was developed to bridge the gap between the GENERON® Twin Tower PSA designs and the expandable Bank PSA Series. Utilizing its years of experience and extensive technology in nitrogen generators, this concept allows for small single or multiple bed PSA's to be installed on a common base, for portability and ease of installation. The design allows for lower-flow and higher-purity applications, and requires less space than the conventional Twin Tower PSA's. Using the highest efficiency CMS on the market to date, the overall system size has been reduced and will utilize less incoming air than conventional PSA's on the market. The air receiver and nitrogen receiver can be installed on same common base, which minimizes installation time, resulting in faster Nitrogen purity, once delivered and turned on.

Applications:
Inerting of Flammable Liquids & Gases
Heat Treatment of Ferrous & Non-Ferrous Metal
Chemical Manufacturing
Electronics
Food Packaging
Injection Molding
Laser Cutting
LPG/LNG Tankers
Petrochemical Manufacturing
Wave Soldering
Brazing
Auto Clave
And many more…
Standard Features:
Full Filtration Package
Air Buffer Tank w/ PSV and PI
N2 Buffer Tank w/ PSV and PI
Two of sync PSAs to provide steady flow rates
Integrated skid for installation ease
High cycle life valves.
ASME Coded Vessels
Exhaust Muffler
Optional Features:
Upgraded Analyzer
Dryer Membrane
Auto standby
Off-Spec
Product Flow Meter
Air Receiver (Ship Loose)
N2 Receiver (Ship Loose)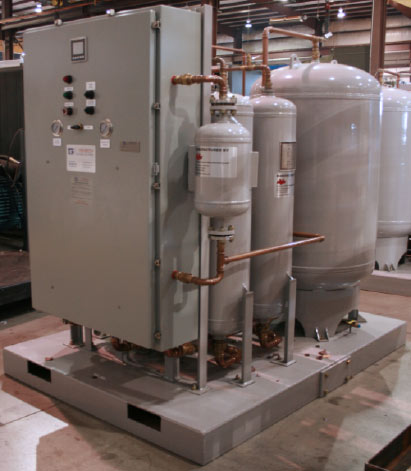 Model
Inlet Pressures: psig 90 to 142, barg 6.2 to 10
View Product PDF
Nitrogen Purity / Flow Rate
99%
99.90%
99.99%
99.999%
scfm
Nm3/h
scfm
Nm3/h
scfm
Nm3/h
scfm
Nm3/h
2xNS-4-48
4-6.6
6.4-10.5
2.3-3.4
3.6-5.4
1.5-1.8
2.4-2.9
0.8-0.6
1.3-1
2xNS-4-60
5-8.2
7.9-13.1
2.9-4.3
4.5-6.8
1.9-2.3
3.1-3.7
1-0.8
1.6-1.3
2xNS-6-48
9.8-16.1
15.6-25.6
5.6-8.4
8.9-13.3
3.8-4.5
6-7.2
2-1.6
3.1-2.6
2xNS-6-60
12-20
19.5-32
7-10.5
11.2-16.6
4.7-5.7
7.5-9
2.5-2
3.9-3.2
2xNS-8-48
17-28
27.2-44.6
9.8-14.7
15.6-23.2
6.6-7.9
10.5-12.6
3.5-2.8
5.5-4.5
2xNS-8-60
21-35
34-55.8
12-18
19.5-29
8.3-9.9
13.2-15.8
4.4-3.6
6.9-5.7
The nominal rating of the generators are at 68°F; 0% RH and at 14.5 Psia. Flow and pressure values are averages throughout a cycle with tolerances of ±4%.
Custom sizes are available upon request.