Mobile Air Compressor Systems
Air Compressor
Feed-Air Screw compressors gather air through an air filter at normal atmospheric pressure at an ambient temperature up to 131°F (55°C). The air is compressed from atmospheric 14.5 psig pressure to 350-psig (24-bar) using Sullair 2-stage compressors. A vertical cooler then cools the air to 120°F (49°C) before it is delivered through a common manifold to GENERON® nitrogen membranes. Each screw compressor is driven by a Caterpillar C-27 engine. Feed-air screw compressors are identical with the compressor and engine mounted inside their own Frame. Each skid contains a process cooler, a radiator for cooling the glycol, and lubrication oil used in the package. Coolers are belt driven which allows fan speeds to match operating conditions. Both the radiator and cooler are specifically mounted for easy removal.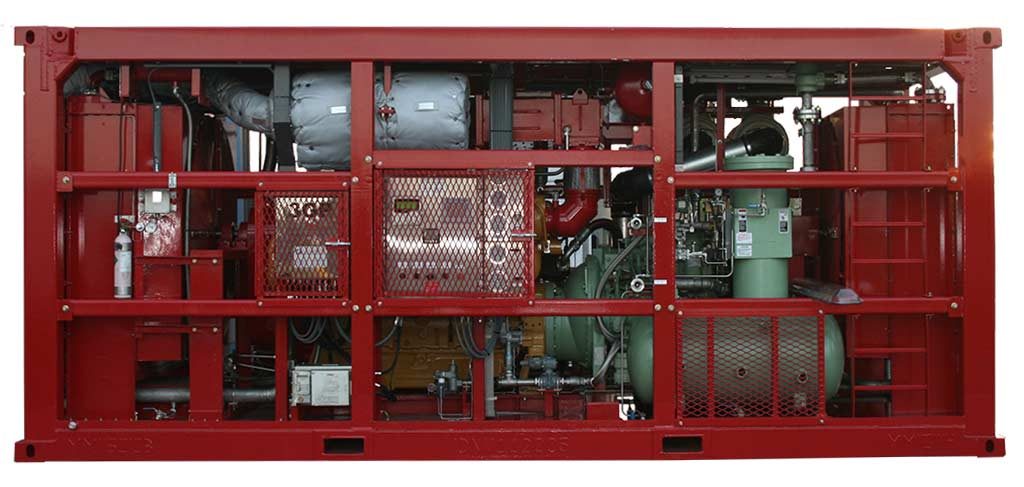 Operating Shipping for ocean freight is the most direct and cost-effective method of delivery or transport.
Quantity
1 Unit
Compressors
GENERON Designed Sullair
Ambient Operating Temperature
131°F (55°C)
Capacity Air Discharge
1500 SCFM – 1800 SCFM of air +/- 5%
Suction Pressure
Atmospheric pressure 14.7 psig (1 bar)
Power
Caterpillar Model C-27 Engine Diesel powered 930 -hp (670 kW) at 1800 RPM on Standard Compressor or C-32 ATEX Rated on Class 1 Zone 2 (Optional)
Hazard Classification
All electrical equipment is Class 1, Division 2 or Class 1 Zone 2
Standards / Design Codes
ASME B31.3, API RP 500
Shut-Down Panel
Murphy TTDJ-DC-T control panel
Cooler Make & Model
GENERON Designed
Weight
32,000 LBS / 11,943 KG
Skid Dimensions
8 ft 6 in. H x 8 ft W x 19 ft. 10 1/4 in. L
(20-ft DNV 2.7.1 Crash Frame shipping container)
FEATURING
Balon check and discharge valves
Piping and vessels designed and built to ASME process piping standard B31.3 (extreme cyclic duty 100% X-ray)
Painted to Global Nitrogen Services paint specification 68.0010
Revision M Frame built to DNV 2.7.1 and designed for 50,000 lb four point 45° lift
Engine muffler and exhaust insulation on all packages inside structure
Four 24-volt fixtures and switch rated for Class 1, Division II and wired to 24- volt battery bank
Stainless steel equipment tags
PSV vent headers with a flanged skid connection
Scrubber manual dumps to skid edge
One 3 in. Compressed air discharge lines with one blind flange and one crossover to 206 Waco hammer union with cap
Stackable 2-high for operations in DNV 2.7.1 Crash Frames
Contact Global Nitrogen & Oil Field Services for more information at +1.713.937.5236 or .