Mobile, High Pressure Nitrogen
Booster Compressor
Discharged nitrogen from the N2 membrane unit flows to the booster compressor package. An Ariel JGA four-throw reciprocating compressor, using four stages of compression, boosts the nitrogen to a discharge pressure of between 2,200 and 5,000 psig (152 and 345 bar), and provides up to 2,000 scfm (56.5 m3/m) of nitrogen. The booster package is self-contained in its DNV 2.7.1 Crash Frame and is powered by a Caterpillar C-18 diesel engine. The package also contains a vertical cooler for process cooling and a radiator for equipment utilities.
Each compressor package is controlled by industry-standard switch gauge control systems using FW Murphy equipment with the control panels mounted along the sides of the enclosures for easy operator access. All panels come with visual and audible alarms to warn operators of operational anomalies and perform automated shutdowns if problems occur with the packages.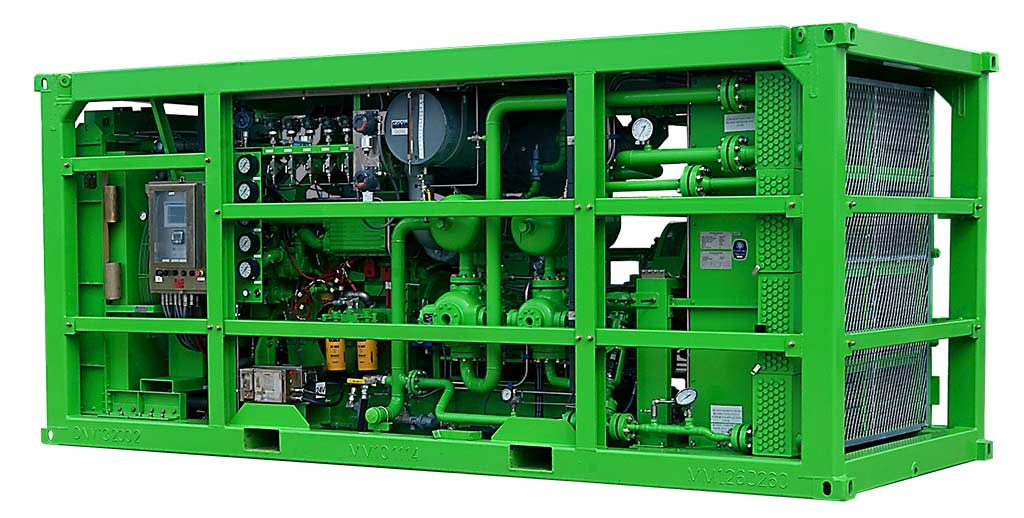 The compressor packages are built with removable roof panels to facilitate the removal of key equipment components, if required. Standardization of design and equipment are important considerations so units can be easily used by different drilling teams and maintenance personnel, as well as to achieve a standardization of spare parts inventory.
For 8 hours, all compressor packages are fully load tested using air before being shipped. All units are started; performance tested, and shut down. Load testing simulates the conditions that the units would experience on-site.
Once compressed, the high-pressure nitrogen is then delivered through Hoses or Hard piping to the customers destination.
Quantity
1 Unit
Nitrogen Delivery
2000 SCFM@320 psig (23 barg) up to 5000 psig
Ambient Operating Temperature
131°F (55°C)
Compressors
Ariel JGJ-2 2-stage tandem and Ariel JGA-4 (4 – stage tandem)
Power
Caterpillar Model C-18 engine Diesel powered 750-hp (560 kW) at 1800 RPM
Hazard Classification
All electrical equipment is Class 1, Division 2
Standards / Design Codes
ASME B31.3, API RP 500
Shut-Down Panel
Murphy TTDJ-DC-T control panel
Cooler Make & Model
AXC cooler model 60W
Skid Dimensions
8 ft. 6 in. H x 8 ft. W x 19 ft. 10 1/4 in. L
(20-ft DNV 2.7.1 Crash Frame shipping container)
FEATURING
Piping and vessels designed and built to ASME process piping standard B31.3 (extreme cyclic duty 100% X-ray)
Painted to Global Nitrogen Services paint specification 68.0010 Revision M Frame built to DNV 2.7.1
Engine muffler and exhaust insulation on all packages inside structure
Four 24-volt fixtures and switch rated for Class 1, Division II and wired to 24- volt battery bank
Contact Global Nitrogen & Oil Field Services for more information at +1.713.937.5236 or .