Flare Gas Recovery Systems and Units
Natural gas that comes from oil wells is typically termed "associated gas" or "flare gas". This gas can exist separate from oil in the formation (free gas) or it can be dissolved in the crude oil. Independent from the source of the natural gas, once separated from crude oil, it commonly exists in mixtures with other hydrocarbons such as ethane, propane, butane and pentanes. In addition, raw natural gas contains water vapor, hydrogen sulphide (H2S) and carbon dioxide (CO2), nitrogen (N2) and other compounds. Associated gas that contains impurities cannot be transported easily and also cannot be used without treatment until separated, or cleaned, by a GENERON® Membrane system used for flare gas recovery.
For a long time, oil producers have simply flared this unwanted oil by-product. But because of the increase in both environmental consciousness and energy demand, flaring is often avoided and is sometimes prohibited. Technically, several options exist for handling associated gas.
Conversion to petrochemical industry feedstock
Gas reinjection for later recovery
Generation of electricity for transmission or on-site needs
Preparing it as a fuel in various forms (i.e. dried pipeline gas, LPG and exporting it via a pipeline)
Processing gas-to-liquids and gas-to-solids
Processing such as LNG or LPG and exporting via tankers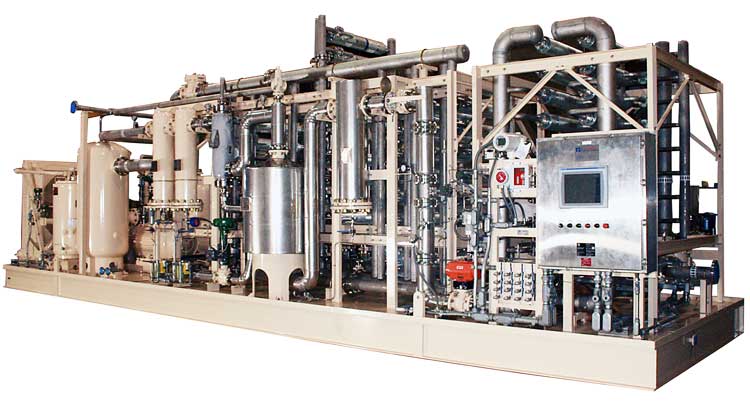 GENERON designs and fabricates custom membrane flare gas recovery and removal systems that offer some of the highest hydrocarbon recoveries achievable. Membranes can dramatically reduce the carbon footprint by removing CO2 from associated or flare gas.
All of the GENERON® natural gas recovery systems are fabricated in our ISO and UL 508A/CSA-C22.2 certified facilities and shops in Houston, Texas and Pittsburg, California. GENERON works with you to design and deliver the most cost effective and efficient solution
APPLICATIONS
Biogas or digester gas
CO2 capture from stack or flue gas treatment
Enhanced Oil Recovery (EOR)
Pipeline gas
Syn gas
FEATURING
Feed gas pressures up to 1,000 psig (69 barg)
> 60 vol% CO2 in feed
< 2% CO2 content in product
> 95% recovery of hydrocarbon gas
> 95% removal of CO2
Flow rates to 500 MMSCFD
ADDITIONAL GENERON PRODUCTS & SERVICES:
Air & Gas Compression Packages
Instrument Air Packages
On-Site Oil Field Services – Operating Personnel and Rental Equipment
PSA Systems