Nitrogen Generator for LC/MS
A vital part of industrial-scale chemical analysis involves the use of mass spectrometry. This method can efficiently analyze chemical molecule movement and characteristics. It is used for applications like isotope dating, trace gas analysis, and drug manufacture. Mass spectrometry has provided answers to pressing scientific questions. GENERON® manufactures membrane and PSA nitrogen generators in their ISO Certified facilities in California and Texas. GENERON works directly with labs to provide the most efficient and cost-effective solutions available.
We will discuss the principles and instrumentation for liquid chromatography/mass spectrometry and how nitrogen generators can be used to optimize the process.
The GENERON® Advantage for Nitrogen in Mass Spec
Small Footprint – Easily meet footprint requirements
Extensive Experience – custom designed skids
Remote Operation – Minimal attention required, fully automated systems
Simple Solution – Minimal maintenance
No Chemicals – Environmentally-friendly
Minimal Losses – Low HC losses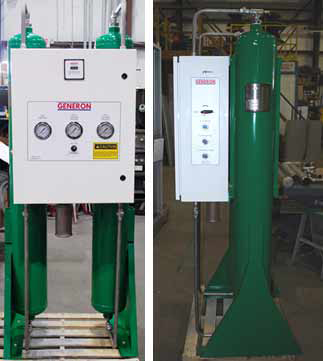 What Is Mass Spectrometry?
Mass spectrometry (also known as 'mass spec') is a method of chemical analysis that quantifies the mass-to-charge ratio of ions. Results obtained by mass spectrometry are typically represented as a mass spectrum. Among the most important combinations of this process, mass spectrometry is gas and liquid chromatography-mass spectrometry (also known as LC/MS).
While gas chromatographs separate ionized gases, the mobile medium in a liquid chromatography set up is usually a mixture of water and organic fluids.
LC/MS Principle and Instrumentation
A liquid chromatography/mass spectrometry machine combines the elements of its components to analyze chemical samples. The basic working principles of an LC/MS are hinged on the separation of sample components which are then subsequently introduced to a mass spectrometry unit that detects/generates charged ions.
The science and technology involved in combining liquid chromatography and mass spectrometry have evolved since it was first introduced. To function accurately, the physical requirements of each component (operating temperatures, vacuum considerations) must be finely regulated.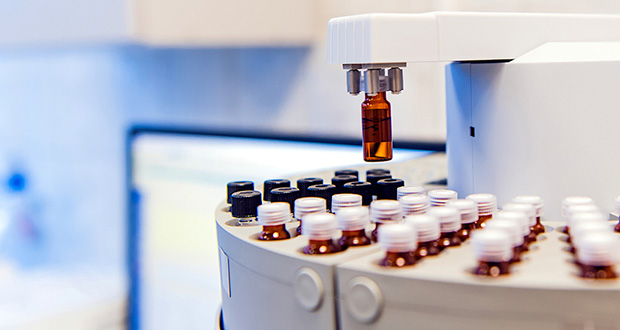 Use of Nitrogen in Mass Spec
Nitrogen is usually employed in the removal of sample solvents to prevent them from reaching LC/MS components where they are not required. Nitrogen will eliminate solvents before they reach spectroscopic detectors and alter assay quality. The various ways in which nitrogen can be employed within an LC/MS are outlined below.
Electrospray Ionization Detectors
Atmospheric Pressure Ionization Detectors
Curtain Gas
Nitrogen in Electrospray Ionization Detectors
Nebulized nitrogen is particularly effective in producing a mist of charged droplets within the detector. The gaseous nitrogen will help separate the solvent from the ionized samples which can then be passed through the quadrupole onto the detector.
Nitrogen in Atmospheric Pressure Ionization Detectors
In these detector types, a jet of nitrogen is used to spray samples onto a heater unit which carries out the ionization process.
Nitrogen Curtain Gas
In some LC/MS applications, nitrogen gas can be used as a form of separation medium to split sample and its solvent atoms preventing the solvent from entering the vacuum chamber of the mass spectrometry unit.

Nitrogen Purity Required for LC/MS
When employing a nitrogen generator for LC/MS, the purity level required is determined by the generator's operating pressure. Typically, nitrogen concentrations of 99.5% supplied at 67L/min are satisfactory for LC/MS systems.
Model
Inlet Pressures: psig 90 to 142, barg 6.2 to 10
View Product PDF
Nitrogen Purity / Flow Rate
99%
99.90%
99.99%
99.999%
scfm
Nm3/h
scfm
Nm3/h
scfm
Nm3/h
scfm
Nm3/h
2xNS-4-48
4-6.6
6.4-10.5
2.3-3.4
3.6-5.4
1.5-1.8
2.4-2.9
0.8-0.6
1.3-1
2xNS-4-60
5-8.2
7.9-13.1
2.9-4.3
4.5-6.8
1.9-2.3
3.1-3.7
1-0.8
1.6-1.3
2xNS-6-48
9.8-16.1
15.6-25.6
5.6-8.4
8.9-13.3
3.8-4.5
6-7.2
2-1.6
3.1-2.6
2xNS-6-60
12-20
19.5-32
7-10.5
11.2-16.6
4.7-5.7
7.5-9
2.5-2
3.9-3.2
2xNS-8-48
17-28
27.2-44.6
9.8-14.7
15.6-23.2
6.6-7.9
10.5-12.6
3.5-2.8
5.5-4.5
2xNS-8-60
21-35
34-55.8
12-18
19.5-29
8.3-9.9
13.2-15.8
4.4-3.6
6.9-5.7
The nominal rating of the generators are at 68°F; 0% RH and at 14.5 Psia. Flow and pressure values are averages throughout a cycle with tolerances of ±4%.
Custom sizes are available upon request.
On-site Nitrogen Generation for LC/MS
The procedure for on-site nitrogen generation for LC/MS systems involves the separation of gaseous nitrogen from atmospheric air. Ambient air is pulled into the nitrogen generator, compressed and filtered using a carbon filter as well as a pre-filtration unit that removes minute particles from the gas stream. High purity nitrogen is then obtained by passing the filtered air through a semi-permeable membrane which separates it from other components of air.
Using a Nitrogen Generator for LC/MS
For operators using LC/MS equipment, the decision to incorporate an onsite nitrogen generator might be one of the best choices for their analytical processes. The use of a nitrogen generator confers various benefits including reduced cost of production, ease of use and convenience, increased operational safety, and reduction in overall energy costs.
Increased Operational Safety
The use of an on-site nitrogen generator eliminates the risk associated with the handling and storage of nitrogen cylinders. Accidental leaks occurring from faulty storage units or gas tubing can be effectively avoided when nitrogen is generated on-site as only required amounts are produced. On-site nitrogen safety helps enhance the overall work environment as personnel are shielded from the harmful effects of nitrogen cylinder storage.
Ease of Use/Convenience
Generating the nitrogen required for LC/MS systems only when needed has the distinct advantage of convenience. Nitrogen generators eliminate the need for the transport and use of storage cylinders. Also, on-site generation helps save on vital floor space that would have been allocated as a storage area for bulky gas cylinders.
Cheaper Operational Costs
After the initial installation, the running cost of an on-site nitrogen generator is significantly lower than the prices of supplied nitrogen cylinders. In addition to costs of delivery and constant maintenance and safety checks, replacement and recalibration of nitrogen cylinders increase equipment downtime all of which are non-issues when nitrogen generators are used instead.
Trust GENERON® Nitrogen Generators in Your LC/MS Process
In over forty years of its existence, GENERON has been providing customers with the most efficient gas production technologies. Our PSA and membrane nitrogen generators have been effectively used in several industrial processes including liquid chromatography and mass spectrometry.
Contact our team for a quote or to get more information about the nitrogen generation services we offer.