CONTRACTED BY NEST OIL NIGERIA, GENERON IGS HAS COMPLETED AND SHIPPED A CLASS 1 ZONE 2 NITROGEN GENERATOR UNIT
The Nitrogen Generator Unit is Housed in the first Crash Frame and utilizes a 10' enclosed section of the 30'X9'6"X8' Crash Frame and the remaining 20' for the Primary Air Compressor Package. This system is designed for use in Hazardous Areas. The Crash Frame Design along with the 10' Enclosed Membrane System allows easy access in order to perform the maintenance on the unit and keeps the membrane system protected from the harsh environments in Nigeria.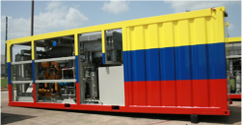 Compressor / NPU Booster
The Booster Compressor is Housed in the Second Crash Frame built to DNV 2.7.1 and utilizes an L20'xH9'6"xW8' section of the 30' Crash Frame. The GENERON Class 1 Zone 2 Booster utilizes Caterpillar ATEX Directive engine which drives an Ariel Booster Compressor with a final discharge of 3000 psig. The remaining 10' of the Crash Frame Container serves as an Office with a built in Work Station, Over Head Storage Cabinets, a Desk and 2 Tool Boxes. The Office/ Work Station also have a Class 1 Zone 2 Wall Mount Air Conditioner.
The Primary and Booster Compressors along with the Caterpillar Engines and Coolers were all specially designed and packaged to meet the harsh road conditions high ambient temperature environments of the customer locations.
In addition to the GENERON components, Houston Vessel Manufacturing, an affiliated company, supplied the vessels and filters for the package.