GENERON'S PRESSURE VESSEL GROUP COMPLETES THREE DEHYDRATION UNITS FOR NORTHERN NATURAL GAS
GENERON's Pressure Vessel Group has completed three dehydration units for Northern Natural Gas. The vessels are going to be installed on NNG's facilities in Wrenshall, Minn, replacing the existing units on site. Each unit weighs 65,000 lbs.
with dimensions of 92″ OD x 407″ OAL. The units were completely fabricated and insulated at our facilities in Houston, Texas, with an on-time delivery.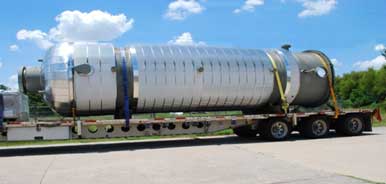 GENERON's Vessel Manufacturing Group, specializes in custom fabrication of pressure vessels of all specifications and pressures. Our fabrication facility is certified with ASME, D1 & DII and European PED standards and can fabricate to Canadian and Australian and Russian (GOST) standards.
GENERON's Vessel Manufacturing Group has a diverse product line ranging from high pressure filter housings, separator vessels, receiver tanks, and engineered process separation systems. As an additional service process piping, tubing and instrumentation can be provided to provide a turnkey solution to its customers.
For information on GENERON's Vessel Manufacturing Group of Companies, please contact us through our website; or call +1-713-937-5200, GENERON, 16250 Tomball Parkway, Houston, Texas 77086, USA.