How to Separate Nitrogen from Air

Our junior high science classes taught us that nitrogen is everywhere. It's in the air, in the ground, in plants, animals, and can get into water supplies. Nitrogen is one of the nutrients that plants and animals need for growth and nourishment. But it also has a long string of industrial and chemical uses in the modern world.
Readily Available Nitrogen
Nitrogen is necessary for agriculture and industry, and to sustain life. Having a readily available source of this gas when it's needed is important. How do we generate large quantities of pure nitrogen on demand? Nitrogen makes up 78% of Earth's atmosphere. But you can't just extract nitrogen from air, can you?
Actually, you can.
Enter air-separation plants and nitrogen generators.
Air-Separation Plants
This type of industrial plant separates atmospheric air into its naturally occurring component gases. These plants harvest oxygen, nitrogen, argon and some inert gases such as xenon, neon and krypton.
The process used in air-separation plants is cryogenic distillation. It is a four-step process that cools atmospheric air to extremely low temperatures. When cooled like this, the component gases are then isolated, separated and collected. Some plants are set up to also harvest the liquid forms of nitrogen or oxygen.
Air-separation plants produce gases that are generally used in industrial processes. These gases are usually transported by direct pipelines or stored in liquid forms for transport via tanker trucks, or gas cylinders.
On-Site Nitrogen Generators
On-site nitrogen generators are increasingly relied on for supplying the nitrogen needs of various industries. The use of on-site nitrogen generators eliminates the problems frequently associated with transportation and storage of traditional liquid form. It costs 40% to 80% less to run a nitrogen generator on-site than using liquid evaporator systems, Dewar's mini liquid tanks, or gas cylinders.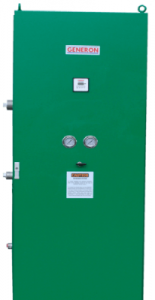 There are two basic types of nitrogen generators: membrane and pressure swing absorption (PSA.) Both types are environmentally friendly and require very little maintenance once properly installed.
Membrane Generators
A membrane-based generator separates compressed air through semipermeable, hollow-fiber membranes. The smaller molecules of oxygen, hydrogen and other gases found in the air are vented away through the semipermeable wall of the membrane, while the larger nitrogen molecule passes through the membrane.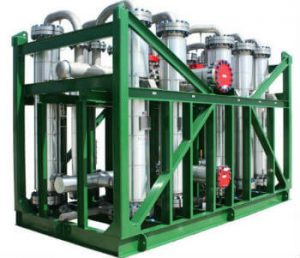 With this type of nitrogen generator, average nitrogen purity is rated from 95 percent to 99.5 percent. However, that is not to say that nitrogen purities as high as 99.99 percent cannot be achieved.
When considering a membrane nitrogen generator, the more highly permeable the membrane used is, the more efficient and lower cost the system will likely be.
Total cost of ownership should be examined. Membrane systems typically have small footprints, no need for multiple receivers, very low dBa, and no switching valves, meaning almost maintenance-free operation. These types of generators are suitable for many locales, from small to medium-sized laboratories to providing in-house nitrogen for large plants and industrial facilities.
Pressure Swing Absorption (PSA) Generators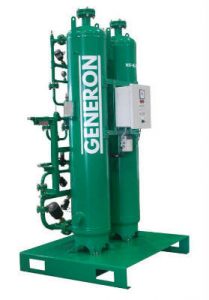 PSA nitrogen generators use a combination of high- and low-pressure cycling. Oxygen-absorbing molecular sieves, know as CMS (carbon molecular sieve) to remove the oxygen from the compressed air stream. This method of separation allows for nitrogen purities of 95 to 99.9995% without taking any extra steps. (Membrane with purities above 99.9% may require extra module configuration.)
A PSA system may be mono-bed or dual-bed. The compressed air passes through the media at high pressure, the oxygen is selectively retained and the nitrogen passes through until the media bed saturates. Rapid depressurization of the mono- or dual-bed releases the oxygen back into the atmosphere.
The mono-bed system is best for lower flow rates, while the dual-bed system is capable of higher flow rates by alternating between the two tanks.
PSA systems are more commonly chosen for higher purity applications. This is primarily due to a smaller ratio of compressed air to the delivered nitrogen. A PSA at 99.9% nitrogen would use 3.5 cfm of compressed air to deliver 1 cfm of nitrogen and a membrane system would use 7.3 cfm of compressed air to deliver 1 cfm of nitrogen.
More and More Turning to On-Site Nitrogen Generation
Nitrogen is a vital component in many industrial markets and manufacturing facilities. Companies are always on the prowl for new problem-solving techniques and cost-saving measures that have a low-impact on current business practices. On-site nitrogen generation is growing in popularity as a solution to multiple business problems.
Contact Generon today for more information on which of our nitrogen generators will best suit your next process.