Nitrogen Generator for Containment Inerting
GENERON, a leader in the design and supply of Nitrogen Generators; both Membrane systems and Pressure Swing Adsorption (PSA) systems, along with Ingersoll-Rand, are pleased to announce another GENERON® Membrane Nitrogen generator has been delivered to Kumho Tire Company in Georgia.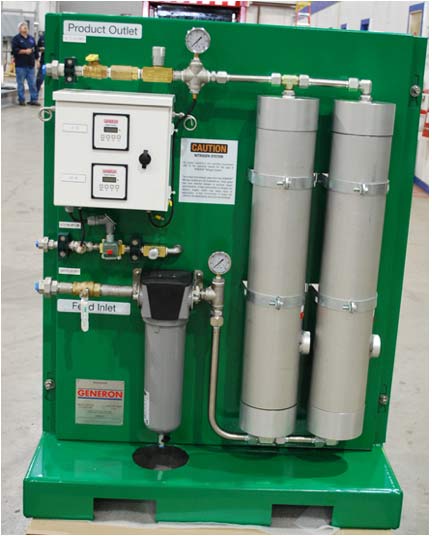 The mobile Membrane Panel System will be used for a box containment system.  After the client's product is complete and loaded into containers, the container will be inerted for preservation and testing purposes.
The system was designed to deliver 95% pure nitrogen at flow rate of 35.5 scfm.  This system includes an incoming air filtration system and a gas analyzer for the output product.
GENERON and its U.S. distribution network are available to assist you with Air compressors, Instrument Air Systems, and Nitrogen Generators for your particular application. Please with your requirements to see how we can meet your Nitrogen needs.