NITROGEN GENERATOR FOR LABORATORY GAS
GENERON, a leader in the design and manufacture of Nitrogen Generators; Membrane type and Pressure Swing Adsorption (PSA) Systems, and their distributor, Ingersoll-Rand of Indianapolis, IN, is pleased to announce a new Twin Tower PSA system has been delivered to Anetch Diagnostics in Brownsburg, IN.
The GENERON® system will provide 99.9% Nitrogen to two of their laboratory gas operations.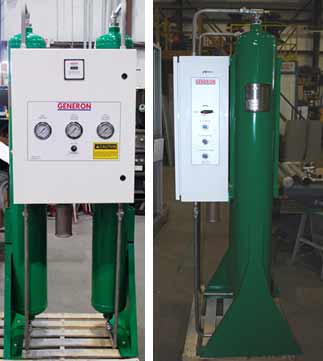 The system is designed to deliver the 99.9% pure Nitrogen at a flow rate of 8 SCFM. This system is also equipped with an on-board Oxygen analyzer to monitor purity and signal an alarm or shut down the system if low-level requires it.
GENERON and its US distribution network are available to assist you with primary Air Compression, Instrument Air Systems, and Nitrogen Generators for your specific application. Please contact us with your requirements and a representative will contact you for further assistance.
For further information on GENERON or the IGS Companies, please contact us through our website at www.generon.com.