NITROGEN GENERATOR FOR PALL CORPORATION LABORATORY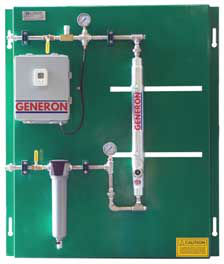 The system was designed to deliver 90% pure nitrogen at flow rate of 78 SCFH and a dew point of – 60°F. This System includes an Oxygen analyzer, a filtration system, and one expansion module to be added later.
GENERON and its US distribution network are available to assist you with primary air compression, instrument air systems and nitrogen generators for your particular application. Please contact us with your requirements.
For further information on the GENERON Group of Companies, please contact us through our website, www.generon.com.