NITROGEN GENERATOR – MOBILE N2 CART FOR RST TURKEY
GENERON©, a world leader in the design and fabrication of Nitrogen Generators, has designed, built, and shipped a New Mobile Nitrogen Generator designed to produce 99.9% Nitrogen at 6,000 psig.
This new Mobile Generator uses a Kubota, Tier 4 Interim 75 hp diesel engine to power a rotary screw compressor package, which compresses ambient air to 200 psig, where it is fed to a GENERON© Nitrogen Membrane System, which delivers 2 scfm (3.2 Nm3/h) of 99.9% Nitrogen, then boosted to 6000 psig (14.4 barg), using an oil free, reciprocating compressor.
This system is built on a mobile ground cart platform, with steerable front axle, and parking/safety brakes, used for Aviation support crews. This unit will be used in a variety of Commercial and Military aircraft applications.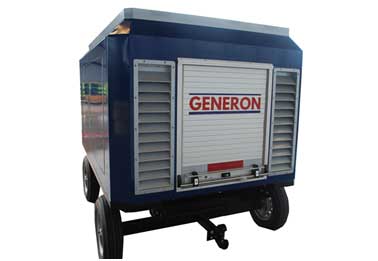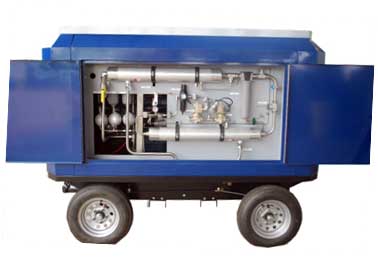 GENERON and its U.S. distribution network are available to assist you with primary air compression, instrument air systems, and nitrogen generators for your particular application. Please contact us with your requirements and a representative will be in touch with you for further assistance.
For further information on the GENERON Group of Companies, and our extensive capabilities, please contact us through our website at www.generon.com.