Nitrogen Pressure Swing Adsorption Generator for Polysol in Brazil
November 15,  2017
Contracted by Alliseth, GENERON has manufactured and supplied a Nitrogen Pressure Swing Adsorption Generator (MODEL: NS-36-95-110) for Chemical inerting, to Polysol in Brazil.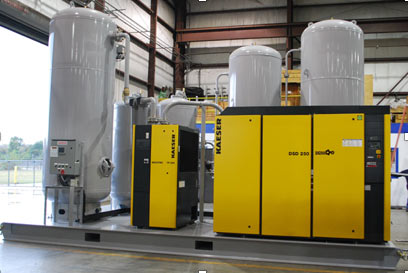 The system was designed to deliver 99.5% pure nitrogen at a flow rate of 280 Nm3/hr. All equipment in this package is controlled by the included PLC; with interface controls for the Nitrogen Generator functions; real-time display and remote interfacing with the compression equipment; and remote monitoring for off-site access.
To compliment the GENERON system, Houston Vessel Manufacturing, an affiliated IGS company, supplied the vessels and filters for this package.
GENERON is available to assist you with Air Compression, Air Drying & Instrument Air systems, and Nitrogen Generators for your particular applications.

For further information on GENERON or the IGS Companies, or to have a specialist contact you with additional information, please see our website at www.generon.com.