North America's First LNG Bunker Barge Delivered
MarineLink August 21, 2018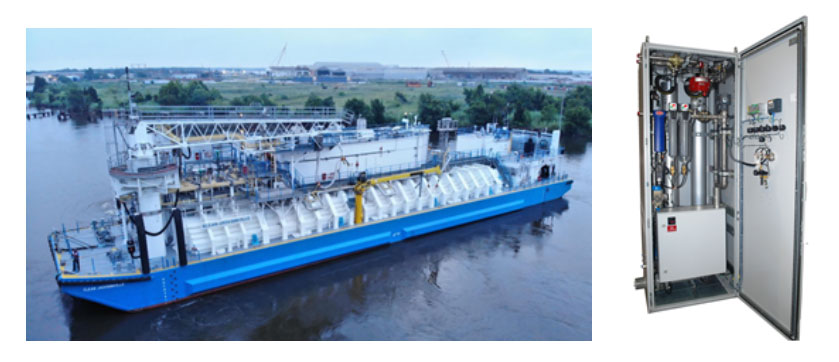 Clean Jacksonville is the the first LNG bunker barge built in North America (Photo: Conrad Industries)
The first liquefied natural gas (LNG) bunker barge to be built in North America has been delivered in Jacksonville, Fla., said U.S. shipbuilder Conrad Industries.
The new 2,200 cubic meter bunkering barge, Clean Jacksonville, will service TOTE Maritime Puerto Rico's LNG-powered Marlin Class containerships, the Isla Bella and Perla del Caribe, which operate between Jacksonville and San Juan, Puerto Rico.
The new barge enters operation as the maritime industry increasingly explores LNG as a cleaner fuel option ahead of tougher rules from the International Maritime Organization (IMO) set to take effect in 2020 that will ban ships from using fuels with a sulphur content above 0.5 percent, compared with 3.5 percent now, unless they are equipped with scrubbers.
Compared to heavy fuel oil or the lighter marine gasoil, LNG can reduce ships' nitrogen oxides and sulphur oxides emissions by 90 to 95 percent, according to industry estimates.
"The use of LNG as a maritime fuel results in tremendous environmental benefits – including air and water quality improvements – and this barge is the final critical component of our LNG program in Jacksonville," said Tim Nolan, President and CEO of TOTE.
TOTE's two 764-foot-long Marlin Class ships, delivered by shipbuilder General Dynamics NASSCO in 2015 and 2016, were the world's first containerships to be powered by LNG. Prior to the delivery of Clean Jacksonville, the vessels were fueled via a truck-to-ship bunkering process.
An Industry First
Clean Jacksonville was designed by Bristol Harbor Group and constructed in Orange, Texas, at Conrad Orange Shipyard, a subsidiary of Conrad Industries. Gas trials were completed at Harvey Gulf's LNG bunkering facility in Port Fourchon, La.
"Conrad has been at the helm of many firsts," said Johnny Conrad, President and CEO of Conrad Industries, Inc. "[Clean Jacksonville] is the first LNG bunker barge built in North America. It is the first time the GTT membrane system has been installed in a non self-propelled barge in the U.S. It is the first time an LNG bunker mast of this type has been built. The list goes on."
The builder credited the project's many partners for their role in the industry-first delivery. "We are humbled and grateful to be a part of an unparalleled international partnership comprised of the owner, our engineering groups, vendors and manufacturers who made this vessel a reality," said Brett Wolbrink, Vice President of Conrad LNG, LLC. "We were fortunate to have such a good working relationship with the USCG and ABS throughout the design, engineering and construction of the LNG bunker barge."
"Beyond our traditional role of designing the cargo containment and other cryogenic elements, such as the innovative REACH4 bunker mast, GTT adapted and expanded its support services to ensure the effective training of the barge crew and the safe and satisfactory execution of the barge commissioning activities and gas trials," said Philippe Berterottière, Chairman and CEO of GTT. "Adapting to meet the requirements and fill the gaps within this growing industry is essential to continue to develop LNG as the preferred and cleaner marine fuel of the future. GTT remains committed to that vision."
Conrad said, "While it has been a challenge and true learning experience, the Clean Jacksonville is a triumph for the U.S. maritime industry. I am proud of Conrad's commitment, investment and foresight in shepherding the advancement of LNG as a marine fuel. We welcome the opportunity to work with customers as they explore and pursue the use of LNG in their vessels."