PRESS RELEASE – LANDFILL TO RNG (BLOWER PACKAGE)  
February 14th, 2019
GENERON has completed and shipped a landfill gas ROOTS™ vacuum blower package, as contracted by Noble Environmental Inc. This package will be installed at Westmoreland Landfill, located near Belle Vernon, Pennsylvania, USA. The package is part of the Landfill Gas to Renewable Natural Gas (RNG) facility constructed for upgrading landfill gas to pipeline quality.
The vacuum blower package is designed to pull landfill gas from the landfill gathering system and deliver the gas at high pressure to downstream pre-treatment system. The system has state of the art ROOTS™ Rotary Type Blower with a maximum capacity to process 2150 SCFM gas at 12 psia of vacuum pressure. The blower is provided with a Variable Frequency Drive (VFD) which allows operation at 40% turn down and results in power savings for the customer. The system is designed to produce 2150 SCFM at a discharge pressure of 21 psia. The blower package is designed to operate at 100% turn down in conjunction with a recycle valve. The entire package was designed by GENERON to meet stringent customer specifications and is built to Class 1, Division 2 hazardous area classification. The VFD drive is designed for safe area operation in a control room.
In addition to the GENERON® components, Houston Vessel Manufacturing, an affiliated IGS company, designed, manufactured, and supplied the scrubber vessel.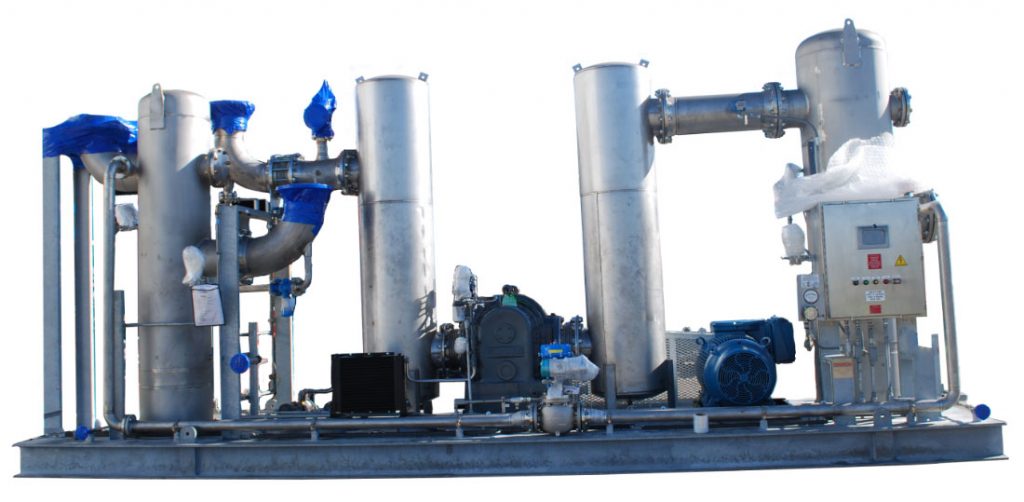 For further information on the IGS group of companies, or to see our capabilities, please contact us at 713-937-5200 or by email: