Romar Supply & Fabrication

Contracted by Air Mac Inc. of Dallas, Texas, GENERON has manufactured and supplied an industrial Nitrogen Generator System to Romar Supply and Fabrication.  The NOW model unit is a wall-mounted panel system, which features the patented GENERON® Nitrogen Separation Membrane along with a pre-treatment air filter.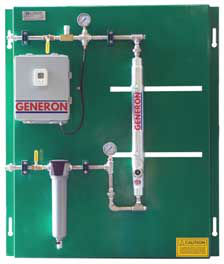 This low-flow generator is designed to produce a constant flow of 99% pure Nitrogen at a flow rate of 17 SCFH (.28 SCFM).  The unit is also equipped with an oxygen analyzer for constant monitoring of product gas, and an activated carbon filter to remove any hydrocarbon impurities in the air stream.
For more information on our NOW Panel contact us at or call us at +1.713.937.5200.