PRESS RELEASE – BALLAST GAS UNIT (HYDROGEN RECOVERY)
GENERON IGS has completed and shipped a Ballast Gas Unit, as contracted by CB&I.  This package will be installed in Lake Charles, Louisiana, USA. The plant is part of a larger Ethane Cracker facility constructed for Lotte chemicals and Axiall Corp.
The system uses GENERON®  membranes to purify an MEG Unit Ballast Gas Methane Stream. The feed gas to the Ballast Gas Unit is a raw hydrogen off-gas stream from the Ethylene Unit. A hydrogen-rich co-product is also produced which is returned to the plant fuel gas system. The system is designed to produce 800 kg/hr of ballast gas with a 50% turn-down and with a product delivery pressure of 124 psig. The entire package was designed by GENERON IGS to meet stringent customer specifications and is certified to Class I Division 2 and Hazardous Area classification for Gas Group B, C & D.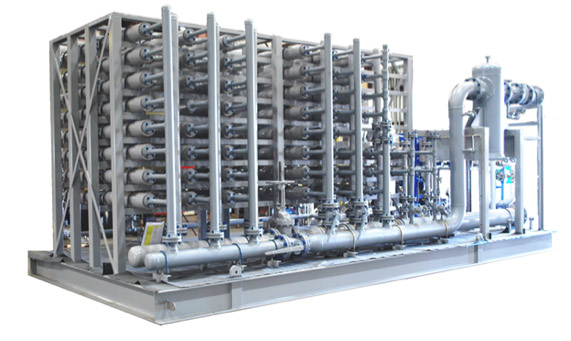 In addition to the GENERON IGS components, Houston Vessel Manufacturing, an affiliated IGS company, designed, manufactured, and supplied the Carbon filter and membrane vessels per ASME code.
For more information about this product, click here.
For further information on the IGS group of companies, or to see our capabilities, please see our website or contact us at www.generon.com